P ZERO™ is the unique Ultra High Performance product combining Pirelli's knowledge gained from competitive Motorsport with Pirelli's alliance with the top car manufacturers, granting the perfect fit for the performance of each car.
New P ZERO™ has a range developed with the most prestigious OEMs that is able to meet any customisation needs in terms of size, technology and seasonality.
NO-PRESSURE DRIVE
It is the tyre dedicated to high-end premium cars and SUVs, specifically designed to fit perfectly with the modern vehicles' features ensuring maximum safety, control and performance in all weather conditions.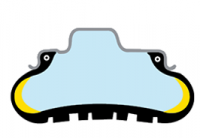 The Pirelli Self Supporting system presents specific reinforcements inserted into the sidewall's structure
| TIRE SIZE | LOAD INDEX & SPEED RATING |
| --- | --- |
| 225/40R18 | 92Y |
| 225/45R17 | 94Y |
| 225/45R18 | 91W |
| 235/35R19 | 87Y |
| 235/35R19 | 91Y |
| 235/35R19 | 91Y |
| 235/35R20 | 88Y |
| 235/35R20 | 88Y |
| 235/40R18 | 95Y |
| 235/50R19 | 99W |
| 235/55R18 | 100V |
| 235/55R18 | 104Y |
| 245/35R18 | 92Y |
| 245/35R19 | 93Y |
| 245/35R19 | 93Y |
| 245/40R18 | 97Y |
| 245/40R19 | 98Y |
| 245/40R20 | 99Y |
| 245/45R18 | 100Y |
| 245/45R19 | 102Y |
| 255/35R19 | 96Y |
| 255/35R19 | 96Y |
| 255/35R20 | 97Y |
| 255/35R20 | 97Y |
| 255/40R20 | 101W |
| 255/40R20 | 101Y |
| 255/45R19 | 100W |
| 255/45R19 | 100Y |
| 255/45R19 | 104Y |
| 255/55R19 | 111W |
| 265/30R19 | 93Y |
| 265/35R18 | 97Y |
| 265/35R19 | 94Y |
| 265/40R19 | 98Y |
| 265/40R20 | 104Y |
| 265/40R21 | 105Y |
| 265/45R18 | 101Y |
| 265/45R20 | 104Y |
| 275/30R19 | 96Y |
| 275/30R20 | 97Y |
| 275/30R21 | 98Y |
| 275/35R20 | 102Y |
| 275/35R21 | 103Y |
| 275/40R19 | 105Y |
| 275/45R21 | 107Y |
| 285/25R20 | 93Y |
| 285/30R19 | 98Y |
| 285/40R22 | 106Y |
| 295/30R20 | 101Y |
| 295/35R20 | 105Y |
| 295/35R21 | 107Y |
| 295/35R21 | 107Y |
| 295/40R20 | 106Y |
| 305/30R19 | 102Y |
| 315/40R21 | 111Y |